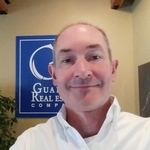 707-884-9920
707-885-0707 fax
707-888-9457 cell phone

Robert@UtopiaByTheSea.com
39140 S. HWY. 1
GUALALA CA, 95445
Receive Email Alerts from Me
My name is Robert Skinner and I am not only a real estate agent, but also the transaction coordinator of Sea Ranch-Gualala Real estate Company. Here are some facts about me:
Being the transaction coordinator for this office is something that I really enjoy and I strive to provide excellent service at all times.
I have held a California Real Estate License since 2006. I accepted this position to learn as much as possible about the back office of real estate transactions to become a better overall agent. Being a transaction coordinator has enabled me to work with other agents, transaction coordinators and escrow officers in the area on a constant basis which has been a very rewarding experience.
I am a full time resident of Mill Valley, CA where I have lived for 48 years. I went to Tamalpais High School and am a graduate of Dominican University in San Rafael, CA where I received a BS in business administration with honors.
I am available 7 days a week. Please call me on my home phone land line 415-388-7562 or my cell 707-888-9457 with any real estate or transaction related inquiries.
DRE 01735486